by Rachel Harris
TODAY ONLY
Get Cane NOW!
One bad boy. One good girl. One unforgettable week.
Angelle Prejean is in a pickle. Her family is expecting her to come home with a fiancé—a fiancé who doesn't exist. Well, he exists, but he definitely has no idea Angelle told her mama they were engaged. Tattooed, muscled, and hotter than sin, Cane can reduce Angelle to a hot mess with one look—and leave her heart a mess if she falls for him. But when she ends up winning him at a charity bachelor auction, she knows just how to solve her fiancé problem.
Cane Robicheaux is no one's prince. He doesn't do relationships and he doesn't fall in love. When sweet, sultry-voiced Angelle propositions him, he hopes their little fiancé game can finally get her out of his head. He doesn't expect her to break through all his barriers. But even as Angelle burrows deeper into his heart, he knows once their seven days are up, so is their ruse.
Rachel Harris writes humorous love stories about sassy girls-next-door and the hot guys that make them swoon. Emotion, vibrant settings, and strong families are a staple in each of her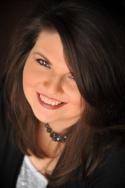 books…and kissing. Lots of kissing.
A Cajun cowgirl now living in Houston, she firmly believes life's problems can be solved with a hot, sugar-coated beignet or a thick slice of king cake, and that screaming at strangers for cheap, plastic beads is acceptable behavior in certain situations. She homeschools her two beautiful girls and watches way too much Food Network with her amazing husband.
An admitted Diet Mountain Dew addict, she gets through each day by laughing at herself, hugging her kids, and losing herself in story. She writes young adult, new adult, and adult romances, and LOVES talking with readers!